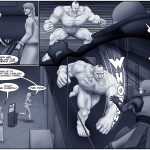 Amelia sets the factory system to flood the big tanks under the catwalk that Zik and the Clonoid are fighting on. Then she shuts down the main power to the machinery. Meanwhile, Zik and the Clonoid square off, ready to fight! Amelia runs off, leaving Trent to guard the control panel, and ready to spring the last phase of their trap. But first, she has to take care of some cables! What are they up to? Zik dodges a mighty punch as the giant Clonoid super-soldier charges him.
Wow, this was a tough page to draw! Zik site members can see my first pass of pencils in the Progress Blog, where I talk a bit about how I lay out the page. Be sure to check it out!
Also, thank you to those who are voting for Zik on topwebcomics.com! I appreciate all the support. If you haven't yet, you can vote once per day at this link! You can also find a Vote button at the very bottom of the page. The more people who visit the site, the better the comic will get for all of us, because it will enable me to add more and more content!