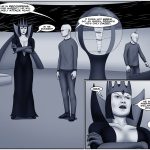 Queen Elcyra gets a status report on Zik. His abilities are still unknown to her, and she didn't scheme her way to dominate Zernabia by being reckless! Rather than stay idle while she speeds to the prison planet, she instructs her Clonoids to prepare the demolition charges that are in the factory! If Zik tries to escape, she's going to level the place!
Some good news: I've got the Zik Wiki (WikiZikia) up and running! So if you're a site member, you'll be able to find it on this page. I'll be populating it with information about the Zik universe as time allows. There will be all kinds of interesting stuff in there, some of it spoilers! I've got this world mapped out in my head in a pretty large amount of detail, and this wiki will be awesome for me to get it out of there in a way I can reference in the future. I hope you guys will like it!
There are even more additions to the site that I'm preparing for members, so if you're not a member yet, don't miss out, sign up to get access now!