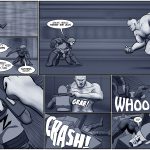 Zik is flung into the factory wall, denting it in the process! What a kick! Good thing he has body armor, although according to Zoot it has taken some damage! Zik gets ready as the Clonoid charges — the fight is on! He blocks a mighty punch and returns with one of his own, but the Clonoid grabs his arm and flings him like a rag doll into a pile of boxes! Zik is unconscious! Oh no!
I'm back!! I never really went away… I'm still recovering from some health issues, so this page took me forever to draw. But it's here! Expect updates more regularly now! I hope..
Also: you might notice that there are new features on the site! There are now two membership levels, with all kinds of goodies and extras for you if you sign up! Also, I added a store! There is a wallpaper in there at the moment, and there will be more stuff in there soon! So welcome back to Zik! I hope to see some new members signing up soon so we can unlock some of my stretch goals!