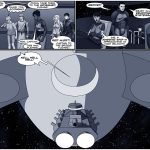 James Anchor formally welcomes his guests to the Kodiak, but as Vera's lung cancer acts up, he realizes that they need a check-up to make sure his crew isn't in any danger. After all, there's a thousand years of colds and flus that have had a divergent evolutionary path! The Kodiak's medic Fiona is tasked with checking them over in the infirmary. But no time for chit-chat, the captain is needed on the bridge!
Zik and James head up to the command bridge and get a report from tactical officer Emma. A huge ship is inbound! There's only one person that could be! Gerald, the pilot currently manning the weapons systems while Jason finishes stowing the shuttle, is ordered to ready all weapons systems.
Sure enough, Queen Elcyra arrives in her capital ship, mighty pleased with herself for catching the Zozians before they can leave!